43pages on
this wiki
Home
ENTER NOW: Adventure Time Giveaway

We want to hear about YOUR recent adventures getting through this crazy winter we've had! Please post photos and/or a story in a couple sentences having fun in the snow or being annoyed by the snow. Get as creative and crazy as you want. If you're not in a snow-filled area (lucky you!), consider this 'Show Your Sun', and share a picture and/or a story in a couple sentences where you are having fun in the sun. GREAT prizes to be won!
WATCH NOW: Fan Brain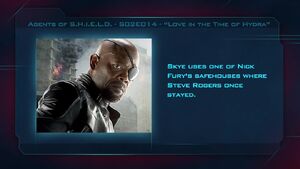 Season 2 of Marvel's Agents of S.H.I.E.L.D. returned this week with "Love in the Time of Hydra"! Coulson and his team are still reeling from a shocking revelation that leaves the team fractured as they must decide what to do with one of their own. Meanwhile, Bobbi and Mack reveal their true allegiance to Hunter, and elsewhere, Ward and Agent 33 embark on a personal mission. Watch the video to see what we caught in this episode!
Vote Now!
Downton Abbey to end with Series 6, thoughts?
Most Popular Videos